We love traveling to literary places. Way back in the spring, before we knew all the challenges we would face this year, Jeff scheduled our vacation to Prince Edward Island. He picked it for two reasons: First, it would be cooler temperatures than Texas, and second, he knew how much I've wanted to go there, for I love all things L.M. Montgomery. What we didn't realize was that it would be the exact restful place we needed after the chaos of our lives. 
We arrived in Charlottetown, PEI, in the middle of a tropical storm. Our early morning flight from Toronto was the only one to PEI that day, the rest of the day they were canceled! Once we arrived, we prepared ourselves to hunker down in our hotel room and wait out the storm. But the sun came out in spite of the fierce wind, so we explored a bit, had a lovely dinner, and wondered what the next day would bring.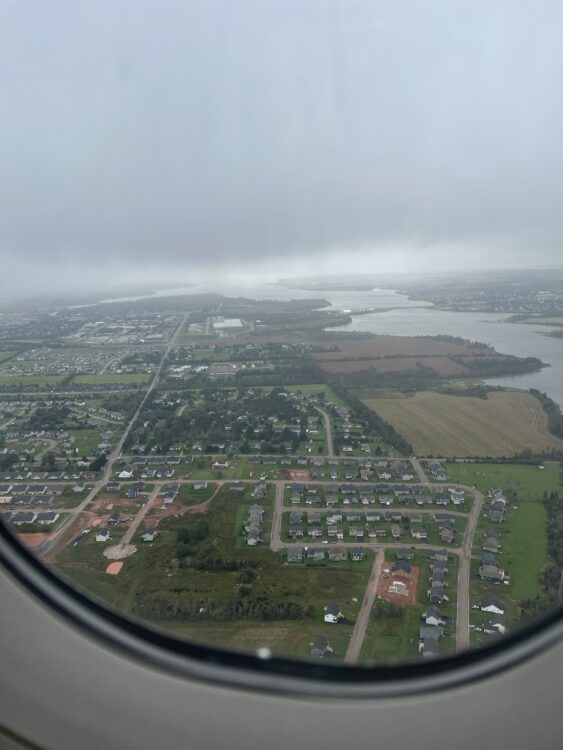 It brought much of the same, thankfully. A bit of drizzle. Some wind. But nothing horrible. We brunched at a lovely German restaurant, then met our tour guide for a walking tour of town. We were the only ones on the tour! I love it when that happens!
Turns out Charlottetown, the island, and Canada have interesting histories we didn't know. For example, did you know that Canada didn't become its own country until 1867? We were shocked! But Charlottetown itself was lovely, with a long history. And our guide, a retired veterinarian who has lived on the island his entire life, except for his first 2 years of college, was delightful.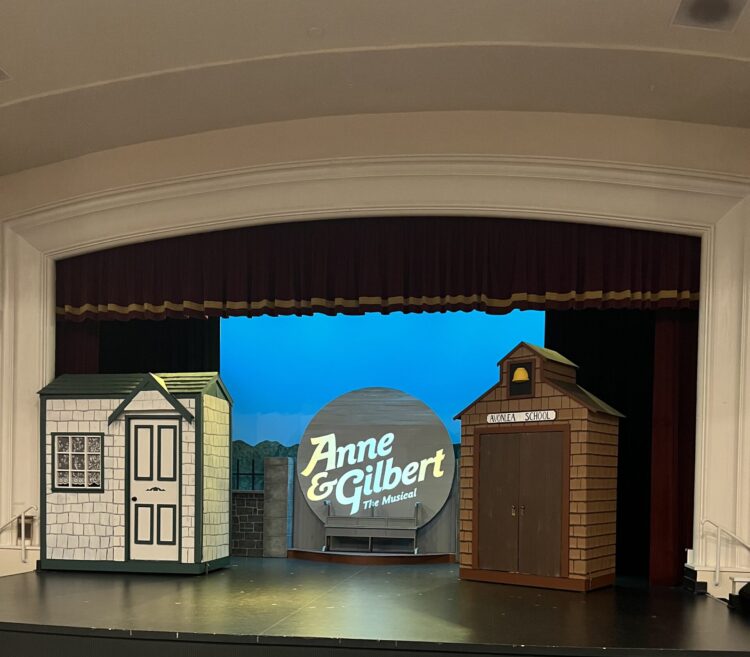 That evening, we went to see Anne and Gilbert, the musical. It was very sweet and well done, but the best part is that it took place in the college Maud attended, where she took her teaching license in one year instead of two–just like Anne and Gilbert at Queens, for which it was the model.
From Charlottetown, we ventured northeast, stopping and various small history museums until it was finally time to check in to our Bed and Breakfast in north central PEI. When you read Anne of Green Gables and the other stories set in PEI, you realize those stories have rural settings. But I didn't really realize how rural the island is until our visit. Lots of farmland in the interior with fishing along the coastline. It was lovely and quiet and restful.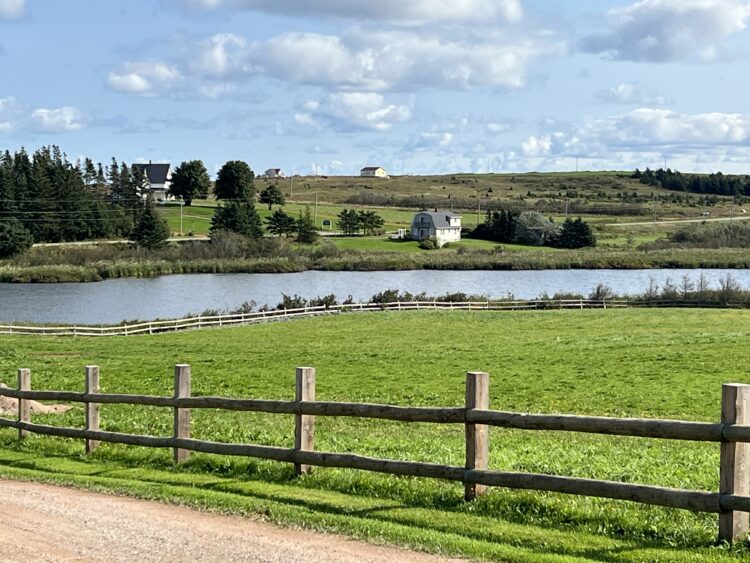 Our hosts at the Barachois Inn, Judy (the mom) and Andrea (the daughter), were very friendly and made our stay even more lovely. They fed us breakfast every morning, gave us great restaurant suggestions, and even provided us with a picnic lunch one day.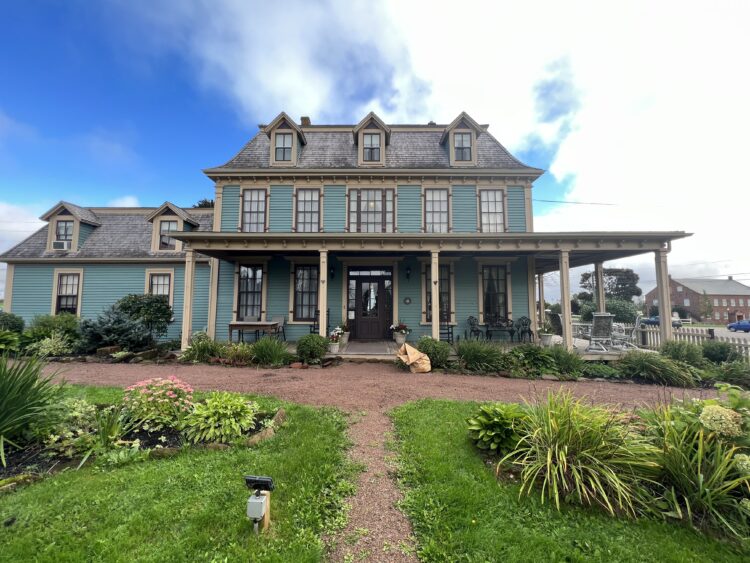 Of course we hit all the L.M. Montgomery sites while we were there: The Green Gables Heritage site, L.M. Montgomery's Cavendish home site, her birthplace, the parsonage where she lived one year while teaching, her burial site, and Park Corner, the site that became Silver Bush in her "Pat" books as well as The Story Girl. At the Green Gables site, we walked Lover's Lane and the Haunted Wood path, just like Anne and Diana did.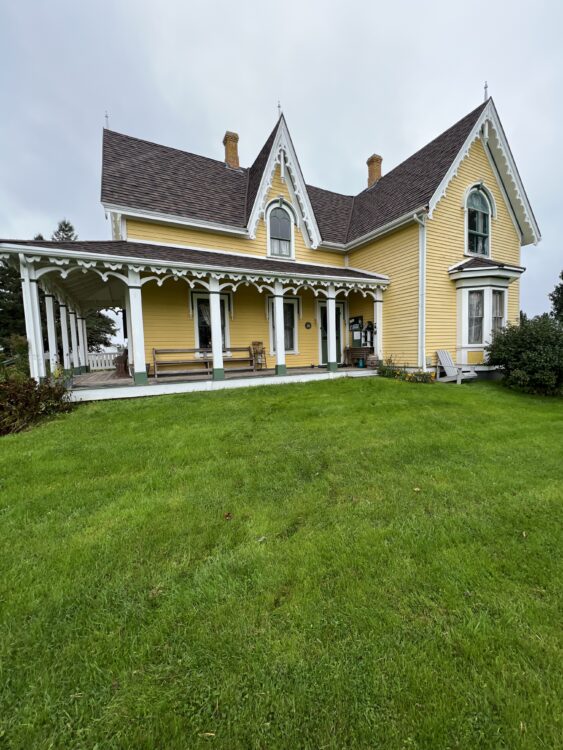 The week was full of great seafood, cool weather, and a few rain showers, which only enhanced the romance of the place for me. And of course, we bought books. Not only did I buy three L.M. Montgomery books I hadn't read, but we found a used bookstore in Charlottetown having a buy 2 get 1 free sale. So yes, we did.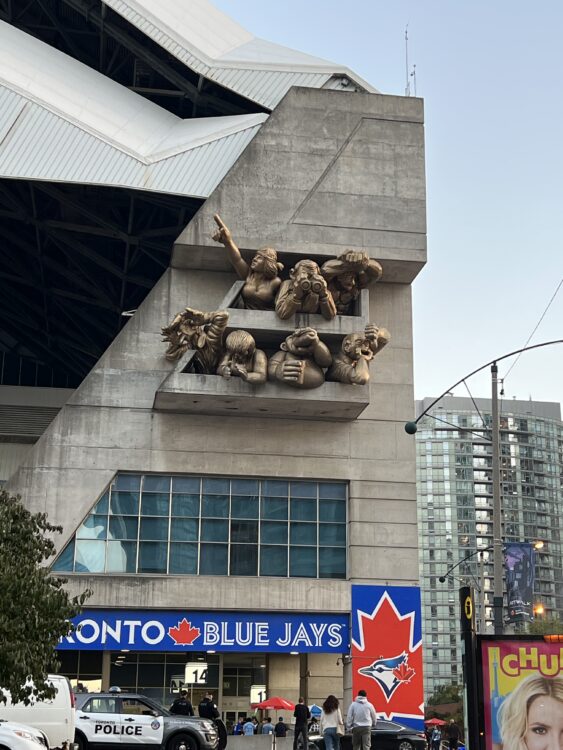 Jeff enjoyed the quiet and the history as much as I did. We had listened to Anne of Green Gables together and he'd watched the old mini-series with me, so he wasn't clueless about all that. But he planned a bit of the trip for his enjoyment, too. We had to fly through Toronto, and our dates just happened to coincide with our Texas Rangers playing the Toronto Blue Jays. And the game had playoff implications. So my baseball man was quite happy to get to visit another ballpark and to cheer the Rangers to a big win that night.
I'm not sure we'll ever make it back to PEI—there are so many places we want to see—but we will definitely go back to Canada. We left there with extremely positive experiences of the people and places.
Have you ever been on a trip that involved a literary destination? Please share!