Back at the beginning of 2022—yes, eight months ago!—I realized no one had slept in the dedicated nursery room upstairs for the entire year we'd lived in the house. What would be better, I surmised, was a playroom for when the kids came over. And it made more sense for the playroom to multipurpose with the large extra guest/exercise room and to move my office to space just for me. The upstairs bedroom at the front of the house is not huge, but it is light and bright. While I got the desk moved back in January, it's taken me this long to situate everything else. Now that it's basically finished, I'd thought maybe you'd like a tour!
Desk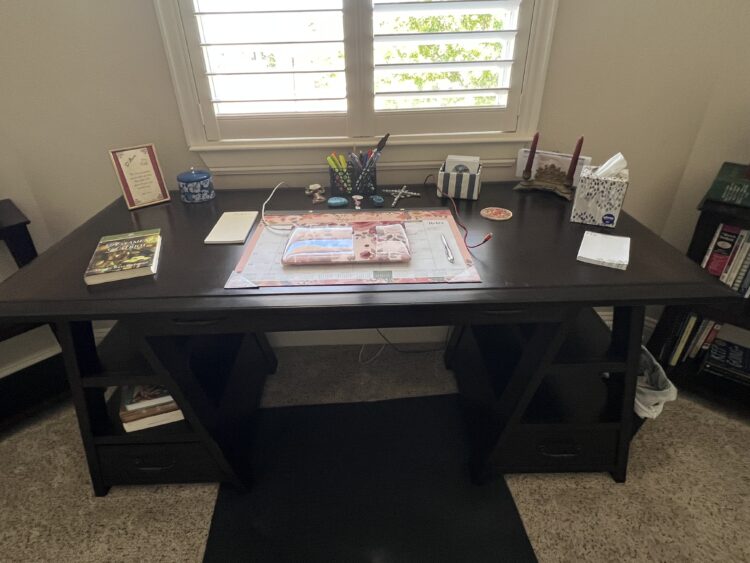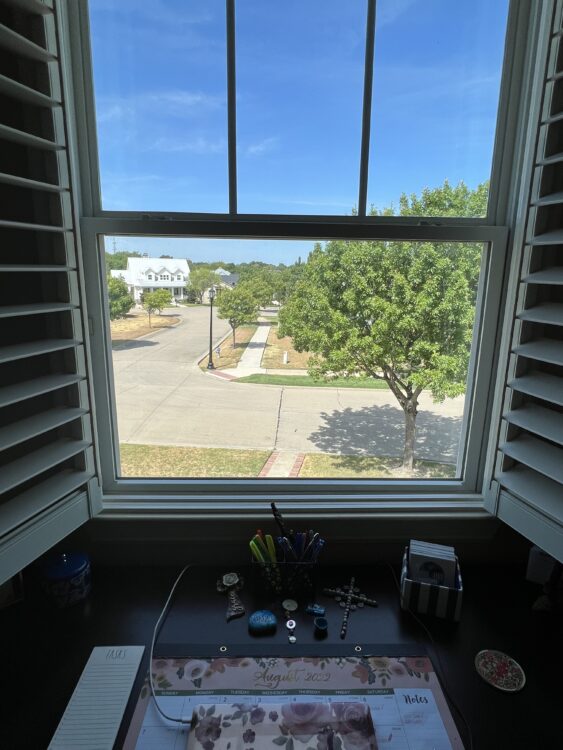 When we moved into this house, I found this desk at a furniture consignment shop and fell in love. I usually go for more ornate, antique-like things, but for some reasons the unique and clean lines and the enormous workspace of this desk appealed to me. This was the only piece of furniture I had in the multipurpose office space. I don't always sit at a desk, but I've found myself doing so more and more. Might have something to do with the view.
Bookshelves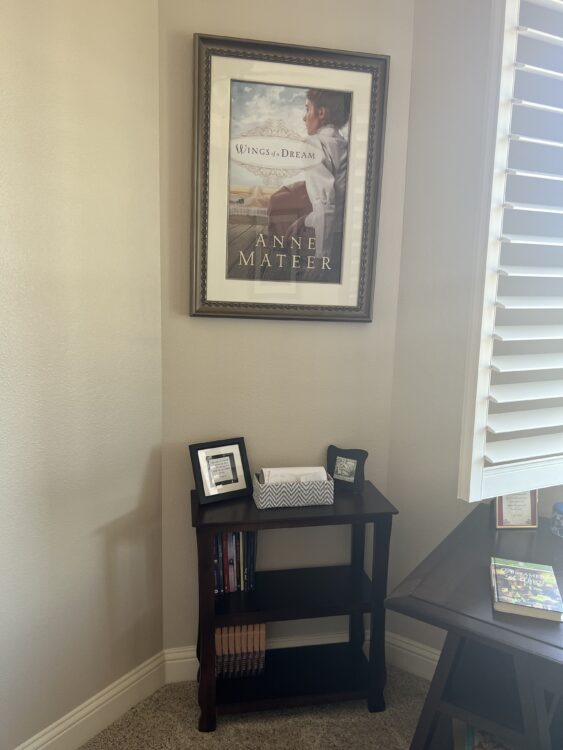 Of course the next most important thing in my office is bookshelves. I found these to hold my reference books, craft books, books I've edited for others and copies of my own book. They were just the right size for those angled walls, leaving enough room for the book covers to hang over them. There are more bookshelves and books in the closet—mostly hordes of research books–but I can't show you the closet because it desperately needs organization!
Chair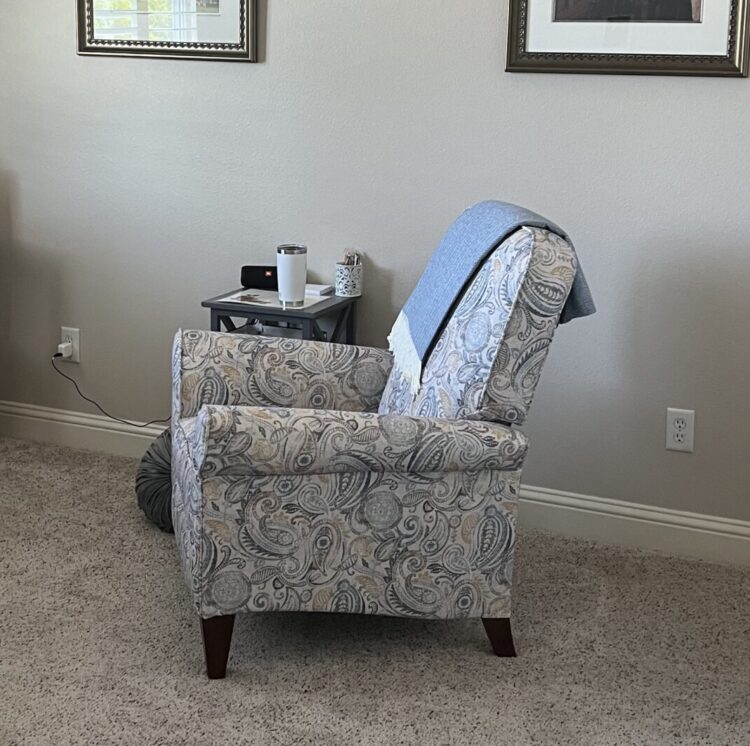 When I was in the process of moving to this space, my husband offered to buy me a chair for my birthday. I found this lovely recliner at Lazy-boy and I couldn't be happier! It's comfortable and cute all at the same time. To top it off, I finally found a cozy throw to compliment it and to keep me warm on winter days.
Tables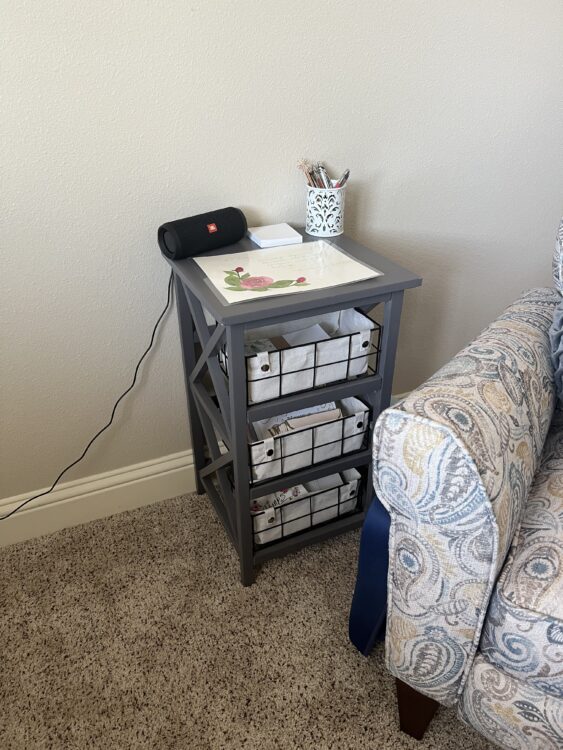 One for the printer, one for beside the chair. These took me much longer to choose. I felt I had enough dark furniture and I wanted to match some colors in my chair. In fact, I just got the smaller table last week—thus today's tour. I love that both have space for storage as well.
Pictures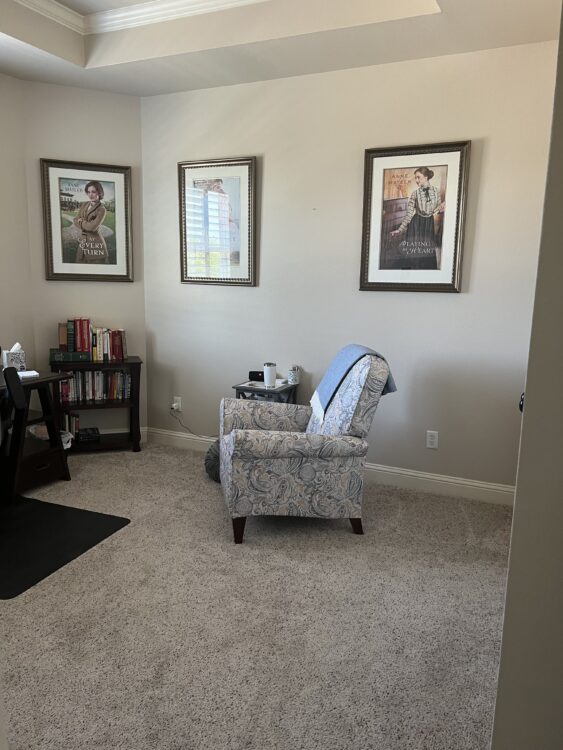 I'm happy to again have a place for the lovely prints of my Bethany House book covers that my sweet husband had framed for me with each new release. I also added the Elizabeth Wade Little Women map my son and daughter-in-law gave me and hope to get another of her book map paintings for the opposite side of that wall. In between, a lovely calendar I found last year. Each month shows a different work of art which features a woman reading. How perfect is that!
I love spending time here. The coziness and functionality has been conductive to work of all kinds. And since it's been several years since I had a workspace all my own, I'm especially grateful.
Do you have a place in your home that is all yours? Tell us about it!