I like lists and calendars, schedules and systems. Well over 10 years ago, after I decided I liked having a calendar and to list in my digital pocket, I subscribed to a productivity/task app new to the scene. It was based on the GTD method of projects and tasks and worked well for me for many years. However as this past year drew to a close I found myself tired of switching between my task app and my calendar app and wondered it there was an app that married the two.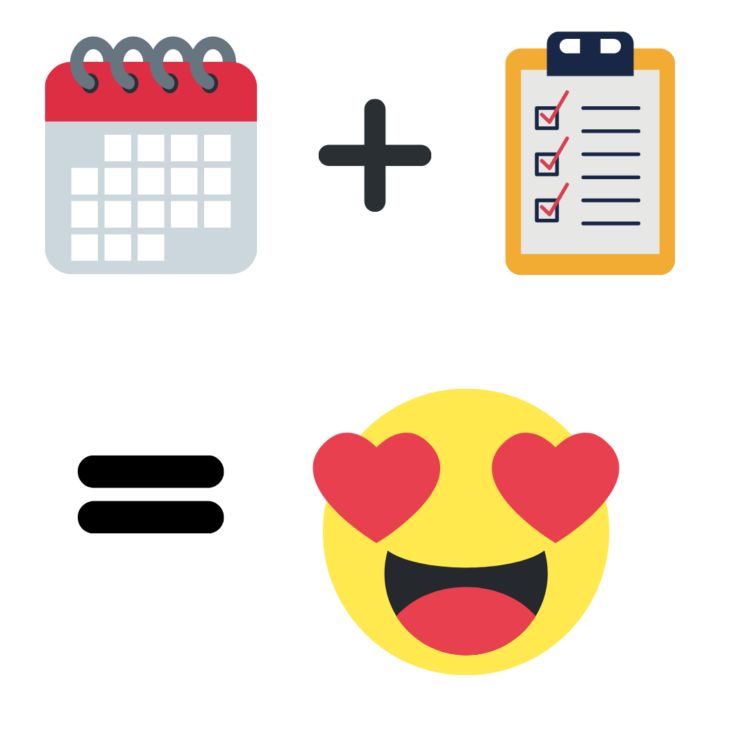 Sure enough, the answer was yes! Several, actually. I tried a couple of different ones before I landed on my new favorite: Fantastical. (Sorry, y'all. It's an Apple only product. But there are others out there in a similar vein that work with other operating systems.)
Fantastical shot to the top of my list for a couple of reasons.
The calendar syncs with my ical, so all those different calendar I already had set up did not need to be redone—and also means that if I need to I can add something on my ical and it will be in Fantastical quick as a wink. (Though truly I'm all in on the Fantastical app and never open ical anymore!)
I can create an event from a task into an event with a couple of clicks. This is important to me because I like to generally log on my calendar how I spend my time during the day. Even though tracking my time is a bit tedious, it keeps me from lying to myself (either that I've done nothing or that I've been busy!).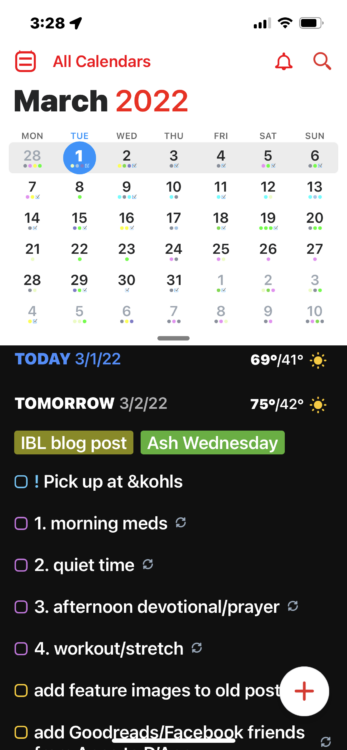 But there are more things I love about Fantastical than those two main things. Here are a few more:
I can set it so I only see the current day and next day's tasks. This is good for me so that I don't look too far into the future and stress out!
I can set an end date for recurring tasks. My old task manager didn't have this option and I love it!
I can make templates for often used events so I don't have to type them in every time. This has been one of those features I didn't know I needed. Unlike auto-fill on ical, I can quickly choose the template or not and don't have to fight with auto-fill when I don't want it.
At the top of my task list, it shows the high/low temp for the day and whether it will be sunny, cloudy, rainy, etc. Which means I don't have to always click back to my weather app if I just need a quick look at the day.
Still, it's not perfect. However, I have found work-arounds to compensate for some of its flaws.
It doesn't allow me to order my tasks within a category. However, because it uses Reminders app (via iCloud), I've discovered I can go in and number the tasks I want to pop up in a particular order. And I discovered that I can set my categories on Reminders in the order I want those batches of tasks to appear on my Fantastical list.
I can't email something to become a task as I could in my old program. However, I can click an email subject line, click Share, then click Reminders. From that pop up I can set the due date, category, rename it, etc. It will then appear as a task and I haven't had to go out of my email program to add it.
As you can see, for me, the pros definitely outweigh the cons. Of course this is after just two months of using it, but so far I'm pretty happy. I like only having to open one app to see all I need to know in terms of both tasks and events. But then I'm kind of nerdy like that.
Do you manage an online calendar and/or task list? What tool is your current favorite in the productivity arena of life?