We went to visit our girl over the Labor Day weekend. Although I had been with her to pick out, move into, and put together her apartment, her daddy hadn't been able to see it yet. Nor had he seen the campus that would be her home for the next five or so years.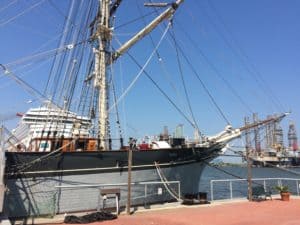 We had a great time exploring the history of the island, thanks to the fact that she won a door prize from the historical society at orientation. We explored the tall ship Elissa, saw movies about the devastating hurricane of 1900 and the connection of the island with pirate Jean Lafitte. (We still want to see the one about Galveston's role as a port of immigration.)
We took a boat
tour around the harbor, where we watched dolphins play and saw a sunken concrete ship (Yes, a concrete ship.) and toured the Bishop's Palace, a fabulous home built in the late 1800s. We also spent a wonderful evening in the beautiful Grand 1894 Opera House where the Galveston Symphony Orchestra regaled us with a world premiere piece, "Galveston Survives" (written and conducted by 87-year-old Izola E.F. Collins) and a program of classic Broadway tunes (conducted by a fabulously entertaining conductor, Trond Saeverud.) We took walks on the beach (with her dog who refuses to touch the water, and of course, as always with Elizabeth, we ate at amazing restaurants.
While we loved everything about the weekend, we loved most of all soaking in time with our girl in her new city and new place, thankful she's already comfortable there, making friends and anticipating her future in the world of medical research. We can picture her there as we pray for her and be content that she is no longer 2000 miles away but a mere 3 hour drive south. And that makes this Mama's heart very, very happy.
(Just in case you need the Glen Campbell song running through your head as it was mine through our whole weekend there!)