My Inspired by Life … and Fiction post:
I have bad eyesight. Like, really, really bad. I've been wearing glasses since 3rd grade, contacts since 7th. I use daily prescription drops for severe dry eye as well as for glaucoma. My glasses help me not run into things but not much more. And even my vision in my contacts can be iffy.
A few years ago, my longtime ophthalmologist and I worked hard to get my distance vision as perfect as possible before my son's wedding. I was so excited to be able to see so clearly for the first time in a long while. The problem? When I got home with those new contacts, I picked up my book and couldn't read any of the words! For me, that was traumatic! At least the solution was easier than any of my eyesight issues to that point. A few pair of reading glasses from the dollar store and I was good to go! Except that I do so much reading—books and computer—that I had to wear them practically all day long!
A couple of years later, after a traumatic contact loss while traveling, I put in an old contact I keep as a backup in order to make do until a correct one can be ordered. I sat down at my computer and reached for my readers when I suddenly discovered I could already read the screen! Eureka! Since then I've worn one distance vision and one close vision contact—and things have been great.
Until a few weeks ago.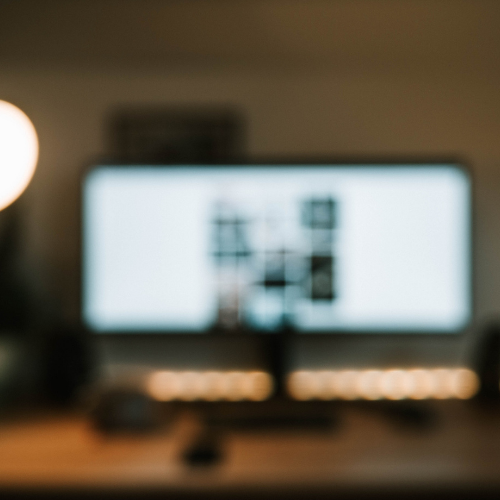 I first noticed the blurred distance vision. I was having trouble reading signs as I drove. Not good. But also not terrible as I rarely go beyond the places I know well enough not to have to read signs. So I ignored the change. After all, I have amazing coping skills after years of dealing with my eyesight.
A couple of weeks later, it struck me that I was straining to see my computer screen while working. Then I noticed I couldn't see my car dashboard clearly. Or the car play screen. Or my phone.
Gulp.
With eyesight as difficult as mine, the last thing I wanted was to go back to the doctor (a new one after mine of 33 years retired recently—at age 84!) and take a chance of hearing some kind of terrible diagnosis. (That had happened last year with the glaucoma!) So again I ignored my burry vision.
Until I couldn't.
I ran in the dollar store and picked up two pairs of readers,, but even those didn't really help. Not like they had in the years when I wore distance-only contacts.
I was frustrated. Discouraged. And honestly? Terrified.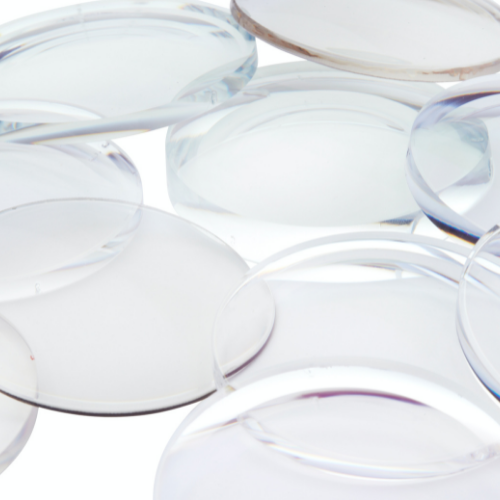 I knew I needed to call the doctor's office and make an appointment. And I resolved to do just that the following day. But as I took my contacts out that night, it occurred to me that I had one more trick up my sleeve to try. On occasion my contacts have gotten switched somehow. The right in the left and the left in the right. After the last time this had happened, I changed the type of case I was using in order to prevent future mishaps. So even though I didn't think it could possibly have happened, I checked.
Sure enough, the contact with the tiny black dot, which should sit in my right eye, had been in my left. I changed them in the case and put them in correctly the next morning. With much fear and trepidation I picked up my phone.
Guess what? I can see clearly again.
I wouldn't have had to struggle for so many weeks if I'd taken measures to check this when I started going blurry. But I had assumed I'd safeguarded myself against the possibility that my contacts could get switched.
As I was relating the story to a friend, I realized that this is so often how we behave with our spiritual eyesight. Everything's going along fine. We feel we've safeguarded our spiritual eyesight by years of being a Christian or by going to church every week or whatever else we've decided will make us less susceptible to blurry spiritual vision. But then suddenly the world around us begins to shift. Things don't seem as clear as before. We strain to comprehend ourselves and others. We get anxious, scared even. Why? Because we aren't looking through the correct lenses.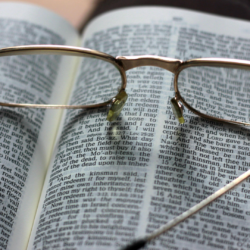 When we interpret the things of life in this world through the lens of Scripture, God's character and His hand clarify our vision. But as we listen to other voices over God's word, our spiritual eyesight can get distorted. We lose perspective. We struggle. We fear. But the more quickly we recognize the issue the more quickly we can fix the correct lenses in place so that truth comes more clearly into focus. And with clearer understanding comes greater peace.
I am seeing more clearly now, both physically and spiritually. And the moment I realize I'm not, you can believe I will be checking that I'm wearing the correct lenses!