Our second week in Scotland was spent mainly in Edinburgh, in an adorable flat in a fabulous central location, right in the heart of Old Town. Of course that meant we had to walk up steep stairs to get to the places we wanted to go! (Between all the uphill walking and the old streets and sidewalks, I was so thankful that I choose to wear my hiking shoes every day! Much more stable for this old lady.)
We let ourselves take it easy that weekend. On Saturday, we searched out book stores! (And yes, bought books.) We also happened to be on the Royal Miles when the Armed Forces Day parade was happening! Sunday, we worshipped at Hillsong Edinburgh, walked New Town and Stockbridge, and toured The Georgian House, which had some of the best docents I've encountered anywhere. I always appreciate a historic home where I learn new things!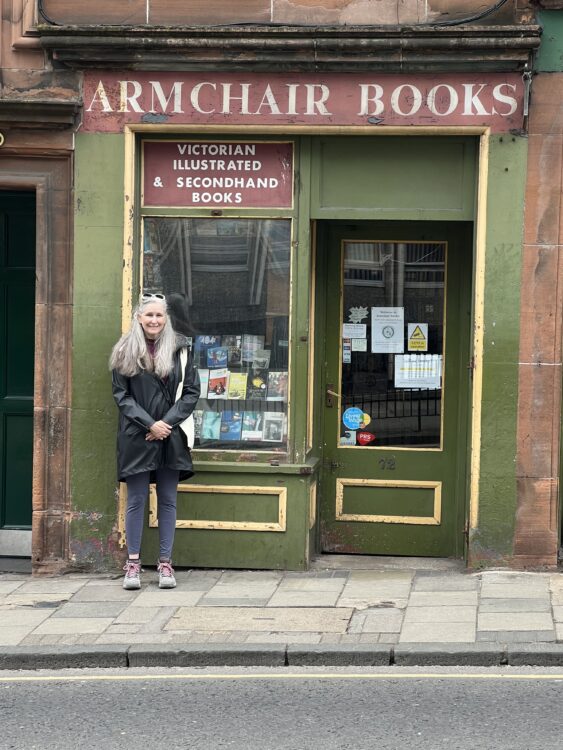 Monday was our 35th anniversary—part of the reason for this trip at this time. We began the day with a tour of Edinburgh Castle. We were there to witness the changing of the guards as well as the 21-gun salute when the Queen landed in Scotland. Besides those things, we spent four hours—four hours!—at the castle. There was so much to see! We opted for the audio tour so we read and listened in all the different places. And besides the history of the place, the views of the city were spectacular.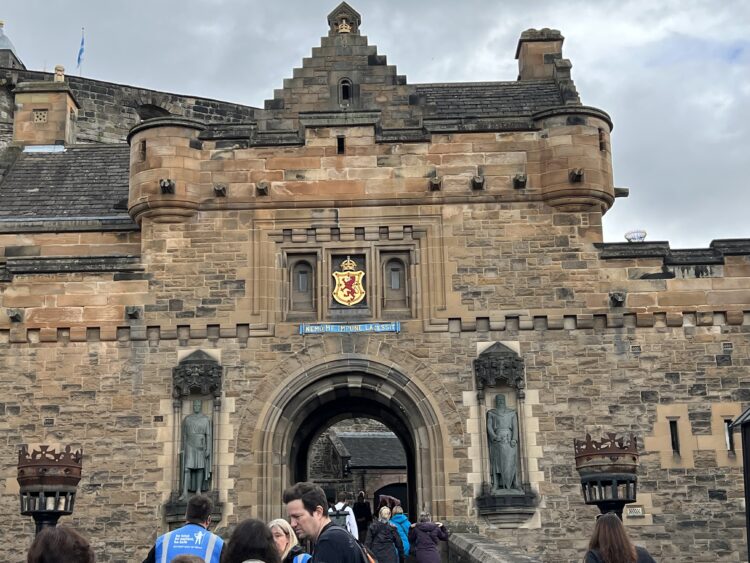 That evening, we had reservations in the Secret Garden room of The Witchery. We had a lovely meal in every way, including dessert on Happy Anniversary plates! But our dinner was early, so we'd decided to add one more thing to our anniversary celebration: A Literary Pub Tour! How fun is that?
Turns out it was great fun! We went to 3 pubs with our actor guides who told us all about the literary history of Edinburgh in entertaining interactions between the two characters. It was supposed to be about an hour and a half, but it turned into three hours! We walked back to the flat after 10:00 pm that night, getting to view Scotland at the darkest we would see it. (Sunrise averaged 4:30 am, sunset 9:30 pm.)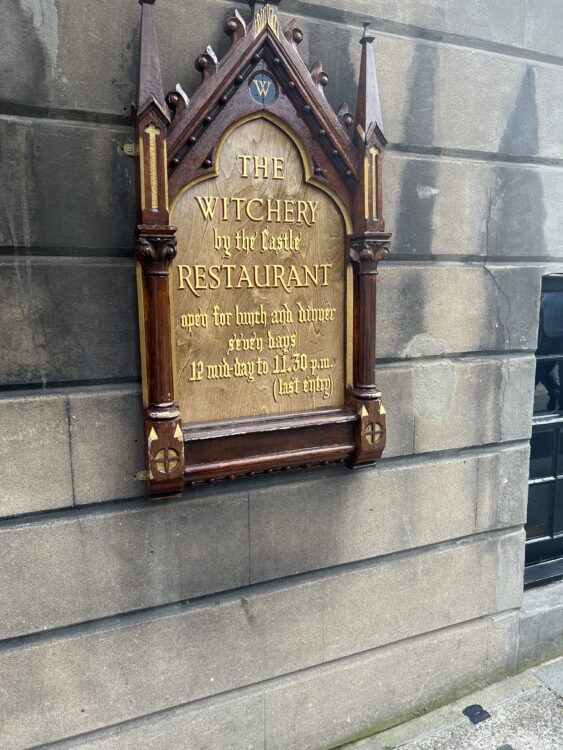 Tuesday we took a day tour to St. Andrews and Falkland Palace. It was the only day in two weeks that it rained the entire day! But we just pulled up the hoods on our raincoats and kept going! A cathedral ruins, a castle ruins, St. Andrews university and the darling town that houses them all. Falkland was a beautiful place build for Mary Queen of Scots' mother. It's in a wee town that just added to the ambiance!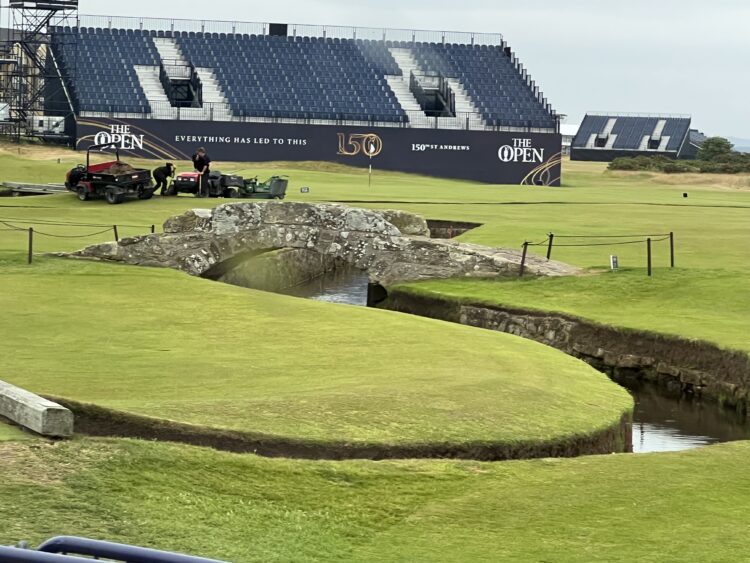 Wednesday we were starting to really wind down, wanting to have some rest in our vacation, too. We walked through St. Giles, toured Mary King's Close—a fabulously done tour of the old close which is now under a government building led by guides in character. Then we toured Gladstone's Land, which I believe is the old building still standing in Edinburgh. I loved this museum because it was all hands-on! But in between we shopped and relaxed and read. And Thursday was much the same, with a walk through Greyfriars Kirk and graveyard, where J.K. Rowling found many of her characters' names!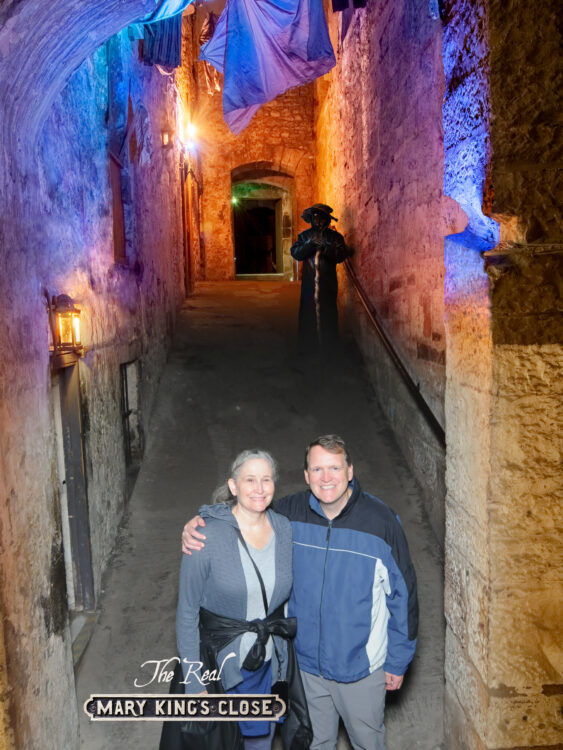 Friday did not start out well. Jeff woke up to a text that the airline had changed our flight out of Edinburgh to a later one but they also rebooked us on a flight out of London which we had no chance of making. After learning there were no seats on any plane, any airline back to the states (anywhere major!) that day, we were scrambling for a hotel room! There was almost nothing still close to the airport. And we wanted to be close since we were booked on an 8:30 am flight! Finally, on Saturday morning, we caught a flight home. But even with that glitch it was a fabulous trip and one that we will relive in memory and pictures for a very long time. And who knows? Maybe we'll even get back at some point to see the things we didn't get to see.
What's the best trip you've taken this summer?