From Inspired by Life … and Fiction this week:
Hey, y'all! D'Ann here. I'm 2 weeks from my book deadline and a week from Christmas/Thanksgiving with all my kids, so meet the lovely Erica Vetsch! (Her books are great, by the way.)
"You have to follow your own voice. You have to be yourself when you write. In effect, you have to announce, 'This is me, this is what I stand for, this is what you get when you read me. I'm doing the best I can—buy me or not—but this is who I am as a writer.'" ~ David Morrell

That Elusive Writer's Voice

Something you'll hear bandied about quite often in writers' circles is the exhortation to "Find Your Voice." I heard it at my first writers' conference and at every one since, and in my early days as a pre-published author, it was one of the most frustrating terms. Thrown out cavalierly, but no one could give me a solid definition of a writer's voice nor how to discover where mine was hiding.

So, what is an author's voice, and why is it so important?

An author's voice is that combination of word choice, vocabulary, speech patterns, rhythm, pace, sentence structure…that makes your writing sound uniquely you! In the words of agent, Rachelle Gardner, "It's you on the page!"

But, if it's just me on the page, why is it so hard to find?

Most writers, when they start out, write pastiche or homage style. We're greatly influenced by writers we love, and when we first start writing, we tend to write in the styles of those authors. The first book I proposed to an editor at a writer's conference…the response was, "It reminds me of Violet Winspear." Now, Violet Winspear was a Harlequin author in the 1960s and 70s, and though I had never read a Violet Winspear, my favorite author of all time is Essie Summers, who, you guessed it, was a Harlequin author of the 1960s and 70s. I was writing in Essie's style, even though I didn't know it.

In order to cure this pastiche/homage writing and discover your own voice, you have to write. And write, and write, and write, and write some more. You need to experiment with first and third point of view, with different genres, and with different types of characters. As you try new things, you'll find your groove, what suits your voice best. You'll hone your voice, though you may not realize to what extent, which is where other people and time come in.

I didn't know I had found my voice until one of my critique partners told me. I had entered a little contest online, judged blind, and my critique partner, unbeknownst to me, was one of the judges. She said she knew the entry was mine even though my name wasn't on it. It sounded just like me.

I had a friend from church who read one of my books not long ago say that even though the book was set in the 1800s and felt authentic to the time period, she could hear the story told in my voice, as if I was the one reading it to her. The cadence and vocabulary and the humor of the story matched the cadence, vocabulary, and quirky sense of humor of my speech patterns.

I can also check that I've stayed in "my voice" when I'm editing something I've written. I'll be reading along and think, "Oh, I should say something like this…" only to find three lines later that I did. That's a great indicator of being in the correct voice.

Finding your writing voice isn't complicated, but it does require work. It requires you to shed the voices of those you've read and let your own storytelling style emerge.

Once you do, you'll find the words come both easier and harder than before. Another of those writing conundrums summed up by Thomas Mann: "A writer is a person for whom writing is more difficult than it is for other people."
But once you find your writing voice, you'll be able to garner the attention of agents, editors, and especially readers who will come to your work because they can't find anything else like it.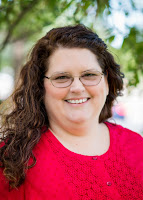 Best-selling, award-winning author Erica Vetsch loves Jesus, history, romance, and sports. When she's not writing fiction, she's planning her next trip to a history museum and cheering on her Kansas Jayhawks and New Zealand All Blacks. You can connect with her at her website, www.ericavetsch.com where you can read about her books and sign up for her newsletter, and you can find her online at https://www.facebook.com/groups/inspirationalregencyreaders where she spends way too much time!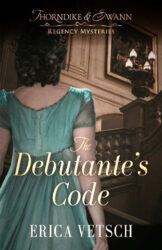 Releasing 12/7/21!

Jane Austen meets Sherlock Holmes in this new Regency mystery series
Newly returned from finishing school, Lady Juliette Thorndike is ready to debut in London society. Due to her years away, she hasn't spent much time with her parents, and sees them only as the flighty, dilettante couple the other nobles love. But when they disappear, she discovers she never really knew them at all. They've been living double lives as government spies–and they're only the latest in a long history of espionage that is the family's legacy.
Now Lady Juliette is determined to continue their work. Mentored by her uncle, she plunges into the dangerous world of spy craft. From the glittering ballrooms of London to the fox hunts, regattas, and soirees of country high society, she must chase down hidden clues, solve the mysterious code her parents left behind, and stay out of danger. All the while, she has to keep her endeavors a secret from her best friend and her suitors–not to mention nosy, irritatingly handsome Bow Street runner Daniel Swann, who suspects her of a daring theft.
Can Lady Juliette outwit her enemies and complete her parents' last mission? Or will it lead her to a terrible end?